| | Name | Rating | 1 | 2 | 3 | 4 | 5 | Total |
| --- | --- | --- | --- | --- | --- | --- | --- | --- |
| 1 | John C. Yoos | 2412 | W34 | W9 | W7 | W8 | W5 | 5.0 |
| 2 | Bruce Harper | 2346 | W18 | D10 | D4 | W23 | W12 | 4.0 |
| 3 | Mayo Fuentebella | 2344 | W22 | D0 | W20 | D0 | W10 | 4.0 |
| 4 | Sean McLaren | 2014 | W17 | D8 | D2 | W14 | W7 | 4.0 |
| 5 | Besnik Beqo | 2147 | W16 | D14 | W11 | W6 | L1 | 3.5 |
| 6 | Tyler Johnson | 2113 | W26 | W21 | D0 | L5 | W20 | 3.5 |
| 7 | Nicholas Spears | 2229 | W23 | W12 | L1 | W25 | L4 | 3.0 |
| 8 | Daniel Salcedo | 2182 | W25 | D4 | W13 | L1 | D16 | 3.0 |
| 9 | Slaven Mandic | 2106 | W27 | L1 | D15 | W29 | D13 | 3.0 |
| 10 | Mehrdad Yousefzadeh | 2023 | W29 | D2 | D14 | W15 | L3 | 3.0 |
| 11 | Lucas Davies | 1919 | W31 | D0 | L5 | D16 | W25 | 3.0 |
| 12 | Benedict Daswani | 1818 | W28 | L7 | W26 | W22 | L2 | 3.0 |
| 13 | Justin Hardy | 1807 | D20 | W35 | L8 | W30 | D9 | 3.0 |
| 14 | Edward Tang | 1797 | W33 | D5 | D10 | L4 | W24 | 3.0 |
| 15 | Don Monteith | 1778 | D0 | W30 | D9 | L10 | W26 | 3.0 |
| 16 | Evgeni Goutor | 1679 | L5 | W33 | W34 | D11 | D8 | 3.0 |
| 17 | Tiffany Tang | 1308 | L4 | D0 | D18 | W28 | W22 | 3.0 |
| 18 | Valentina Goutor | 1763 | L2 | L26 | D17 | W36 | W27 | 2.5 |
| 19 | Stewart Paulson | 1530 | D0 | L20 | L30 | W31 | W29 | 2.5 |
| 20 | Leo Erazo | unr. | D13 | W19 | L3 | W21 | L6 | 2.5 |
| 21 | Juni Caluza | 1892 | W32 | L6 | L25 | L20 | W30 | 2.0 |
| 22 | Barry Bell | 1761 | L3 | W27 | W35 | L12 | L17 | 2.0 |
| 23 | Charles Fekete | 1758 | L7 | W31 | W32 | L2 | L0 | 2.0 |
| 24 | Noam Davies | 1731 | D0 | D0 | D0 | D0 | L14 | 2.0 |
| 25 | Marionito Jose | 1713 | L8 | W28 | W21 | L7 | L11 | 2.0 |
| 26 | Kazimziercz Holubowicz | 1566 | L6 | W18 | L12 | W32 | L15 | 2.0 |
| 27 | Rodolfo Planas | 1507 | L9 | L22 | W33 | W35 | L18 | 2.0 |
| 28 | Laura Harper | 1045 | L12 | L25 | W0 | L17 | W35 | 2.0 |
| 29 | Peter Sum | 1469 | L10 | D0 | W36 | L9 | L19 | 1.5 |
| 30 | Jason Lynd | 1444 | D0 | L15 | W19 | L13 | L21 | 1.5 |
| 31 | Paul MacDonell | 1221 | L11 | L23 | D0 | L19 | W36 | 1.5 |
| 32 | Jamie Harper | 1220 | L21 | W0 | L23 | L26 | D33 | 1.5 |
| 33 | Athena Lam | 902 | L14 | L16 | L27 | W0 | D32 | 1.5 |
| 34 | George Wilson-Tagoe | 1783 | L1 | W36 | L16 | L0 | L0 | 1.0 |
| 35 | Patricia Bell | unr. | W0 | L13 | L22 | L27 | L28 | 1.0 |
| 36 | Adam Rootman | 1177 | D0 | L34 | L29 | L18 | L31 | 0.5 |
---
Foregoing the beautiful sunny weather of the March 1-3 weekend, thirty-six intrepid players converged on the Vancouver Bridge Centre for a chance to win a paid entry into the 2002 Canadian Championship/Zonal. To no one's surprise Jack Yoos emerged the overall winner, outclassing the field and taking the Zonal spot with a perfect 5-0 record. Tying for second a full point back were Bruce Harper, Mayo Fuentebella and Sean McLaren. Six(!) players tied with 3/5 and split the U2000 prizes: Ben Daswani, Lucas Davies, Evgeni Goutor, Justin Hardy, Don Monteith and Edward Tang. Edward's sister Tiffany had one of her best performances ever to win the first U1600 prize, while Stewart Paulson and newcomer Leo Erazo divided the second prize. The tournament attracted a wide range of players who enjoyed the friendly competition in Vancouver's first weekend swiss of the year. Also popular, especially among the juniors, were the Siamese/Bughouse games in the skittles room: Jack Yoos participated on occasion, as did visiting GM Duncan Suttles.

Organizer: Katherine Davies, Tournament Director: Stephen Wright.

Some photographs from the event:
| | |
| --- | --- |
| | |
| Jack Yoos and Nick Beqo | Bruce Harper and Charles Fekete |
Justin Hardy and Slaven Mandic
Tyler Johnson and Nick Beqo
What does this Scot keep in his sporran? A cell phone!
Daniel Salcedo and Jack Yoos
Valentina Goutor and Rodolfo Planas
Over 70 years difference in age!
| | |
| --- | --- |
| | |
| Sean McLaren and Edward Tang | Juni Caluza and Leo Erazo |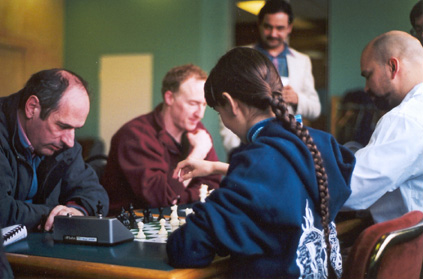 The team of Suttles and Harper takes on Goutor and Johnson at Siamese.
Rumour has it Valentina won at least one game against her GM opponent.